Skyline High School

---
---

Skyline High Class of 1973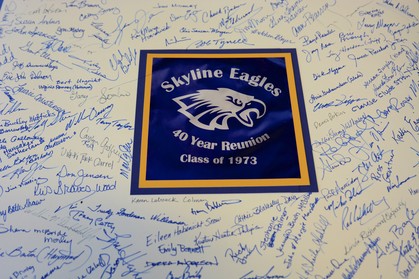 Welcome to the Skyline High Class Of 1973 web site. We have now celebrated our 40 year class reunion. It was fantastic to get together this year to celebrate and see how we are doing. From what we observed, we are doing quite well, thank you very much.
TAKE THE SURVEY - ON THE LEFT CLICK 40 YEAR REUNION FEEDBACK AND FUTURE REUNIONS AND RESPOND TO SEVERAL QUESTIONS. THANKS -- IT WILL HELP WITH PLANNING FOR THE NEXT REUNION.
Class of 73, we want to make this site more interactive, so each month or more frequently we will be posting something from one of our more literary classmates to create interest, thinking and chuckles as you read what is posted. You all also can post pictures to the website and we will get out instructions for that also.
Here is this month's article by Steve Davis. He is such a good writer. I hope to have Mike Carter do the next months. Thanks Steve.
THE BULL'S EYE
A few years ago I received a birthday card that keeps me focused on what is essential. It says, "Life is simple. You're born. You have birthdays. You shrink." So far, I'm right on track.
I just celebrated another birthday. Not just any birthday, but the birthday that pushed me into my 60th year of life. Like many other classmates, this event has been unsettling.
At the moment, I'm craving reunions and associations with old friends. Several weeks ago I was fortunate to huddle with old friends and fellow classmates, Paul Halliday, Paula Bennion (May) and Penelope Snow (Harris). What a great opportunity to upload memories and reminisce on yonder years. The hours flew by as we reconnected with names, experiences and recollections, leaving each of us firmly committed to meet again, soon.
It was fascinating…someone would recall an incident that is flash-blinding and leaves after-imaging of an event that had lain dormant for years. I guess time puts a halo on a lot of things, but our memories are who we are. The past comes again to the present. Reunions, gatherings, and contact are crucial to our identity, individually and collectively. It's how we measure our progress through life.
Walking a road already travelled is not always easy. Retracing steps often makes it difficult to contain one's feelings. I guess that's the nature of memories. They can often arrive with overwhelming clarity, or in fragments, lacking distinction and can often be untidy.
However, we all carry memories of our own pilgrimage that bears witness to our joys and unique pains.
Furthermore, all of us are going through the stages simultaneously: We were born. We have birthdays. We have shrunk. The fire within is often obscured by the waddlesome flab without and wrinkles deeper than the Wasatch fault. Being part of this informal clump makes for good fellowship. We still have teeth in the sockets, if not the bite force of years gone by. So far, there is no evidence of reduced autonomy in any of us…maybe a little automatic inertia. This is good.
I was again reminded that it's not easy being an adult under any circumstances. Most of us are profoundly myopic. Personally, my emotions can fluctuate from solar flare to polar vortex in a twinkling. There have even been occasions when I have channeled my inner Nosferatu. I guess it goes with the territory. Sometimes adulthood is the ultimate blood sport.
Life can often resembles riding a 2,000-pound rodeo bull whose hostility is dark, defiant, and dangerous. It snorts and bellows menacing oaths reminiscent of a mother under stress, and can render any cowboy perfectly stupid and acutely angled when it unceremoniously dumps us into the dirt, like little pieces of wreckage, long before 8 seconds have ticked off the timer.
Maybe that's what life is all about. In spite of the despair, the stress, the difficulty, there is beauty and lovely memories…and odd moments when you have the illusion that you're in control of what is happening around you. Maybe the theory of relativity is, ultimately, about relationships – that Victor Hugo was right when he said, "To love another person is to see the face of God." Perhaps life can be even more adventurous and triumphant than 8 seconds on a bull. That's what we aim for. That's the bull's eye.
I guess in the end, each of us is greater than the sum of our parts. That's our salvation.
Steve Davis
This is the official website for our Class. To join (it's free!), click 'Classmate Profiles' at left and locate your name. It only takes a few minutes to update your profile. If your name is not on the list then hit the 'Contact us' link and let us know and we will add your name. It's a two-step process: 1) you'll need to join first before you can 2) see profiles of other class members or send secure messages to other registered alumni.
'Classmate Profiles' is a secure online directory that only logged-in '73 alumni can view. When you update your profile, you make choices about privacy. Email addresses are required but will never be displayed; only a 'send private message' link. You'll receive a welcome email after you 'save' your updated profile.
How can you help? If you're in touch with 'Missing Classmates' or alumni who haven't yet updated their profiles here, please help us by clicking on their name to send an email invite - thanks. We will be sending postcards to alumni for whom we have addresses (who hadn't yet registered on this Site.) As 'undeliverable' postcards are returned, the 'Missing Classmates,' the list grows, so check it often and help us out!
Feedback/suggestions are always welcome--use the 'Contact Us' link.
ANNOUNCEMENTS
| | |
| --- | --- |
| • | Message from Deb (Kuhn) Curry: Hi Skyline Friends! I have been "friends" with many of you on Facebook and wanted to let you know that I no longer use Facebook at this time. I may again in the future. Meanwhile, if any of you would like to contact me, please send me a message here and we can exchange email (whether friends on Facebook or just old fashioned friends!) This is a wonderful website and thanks to those who made it possible! |