Skyline High School

---
---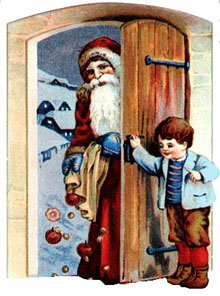 Skyline High Class of 1973
Merry Christmas
Reflections from Christmas 2013
Christmas 2013 was a triumphant event. Gift wrapping blanketed the hardwood floors like an invasion of a conquering army – a sort of post-Santa scorched earth. In keeping with my wife's policy of NO TRADITION LEFT BEHIND, we succeeded in observing every teeny weeny custom since Dickens invented Scrooge, though there were times we looked less like Norman Rockwell and more like a Homer Simpson Family Christmas.
My capacity for all things Christmas is diminishing with each proceeding year that I haul the 18 boxes (mini-shipping containers) from the catacombs under the house to the main level for general distribution. The annual transformation of our humble home into a centerfold for Currier and Ives is more than I can handle most years.
I hate it when my inner "Ebenezer" over-rides my "Tiny Tim". Vacating my caustic disposition for a brief moment, I realize that I needed an attitudinal adjustment before I became the reincarnation of The Grinch.
For me, Christmas is a bi-polar holiday – manic-depressive/schizophrenic – "Merry Christmas"/"Bah, humbug." I'm sure it's the season of my life as much as the season of the year.
My wife and I erratically indulge in the contagion of binge hall-decking, followed by the caloric terrorism of a remorseless, unrestrained yule log cake rampage. And then, I become defibrillator-dependent, relying on accommodating over-the-counter products to restore normal blood pressure and bowel function. (I'm in that sublime time of life when "comfort and joy" are a direct consequence of Tums and Preparation H.)
Of course, I begin each Yuletide Celebration with the loftiest ambition. And every year I go malignantly off-course. I vacillate between a brain strangled with obligations of revelry, and the silly stupefaction of an ever-increasing glaciated mind. Really. It never changes.
But it is a nostalgic time, a time for sweet recollection and contemplation. However, nostalgia is age appropriate. I go way back. I remember John Travolta and Olivia Newton-John before they were arthritic, surgically re-invented, or indicted for deviant behavior. I remember when "bad" really meant bad, "thongs" were something worn on your feet, when "gay" was a state of happiness, being "sick" was really a bad thing and "hooking up" was something you did with your washing machine. But I digress…
Last year my wife and I took particular care to review with our family the sacred events that first generated this annual frenzy on Christmas Eve. It all seems so simple when one is instructing small children. I'm not really sure why, as adults, we complicate it in the name of "The Holidays." Distorted reasoning, due undoubtedly to sleep deprivation brought on by nostalgia and tradition…and too much eggnog.
But this years, the grandchildren all appeared to get it. This was most gratifying. And they, in turn, seemed to teach the adults…as two exhausted generations lay in traction from preparing festivities of such elaborateness it can sometimes divert and obscure that simple story of old.
Every year I claim redemption, a personal epiphany of reclamation – that I will change my ways and not lose sight of what matters most. But it is so easy to lose my way.
Over the year we annually renew our vows of financial celibacy prior to Christmas. I attempt to channel my inner Jacob Marley, by draping myself in heavy chains and conjure bank and credit card statements from the past, while groaning and quivering in agony, with my gaunt and slacken-jaw. Believing these pictures will rise up to haunt my wife's dreams at all hours of the night like a hybrid of all the Fiscal Ghosts of Christmas Presents Past. Unfortunately, all my oratorical pyrotechnics fall on depleted reserves of energy. She's just too tired to be persuaded.
So, she remains resolutely unimpressed. After 37 years, she is not easily frightened…she is, after all, my wife and a Mother! Like most Mothers and Grandmas, she's one part guts and three parts Teflon, and where her baby cubs are concerned, rationale and restraint simply don't stick. Even Navy Seal campaigns and terrorism are rather impotent when we're talkin' grandchildren…
Alas, Christmas is a time to mend our broken spirits, when blessed amnesia mutes the problems of life, and we can recall once more that a Child was born.
The wise men brought gold, frankincense, and myrrh. The children bring love. I again thank my grandchildren for sharing their simple love, and for showing us just what this holy event really signifies.
We should remember that the tomb was empty, the manger full.
We should sing Noel. Perhaps nothing more needs to be said.
Steve Davis
Welcome to the Skyline High Class Of 1973 web site. We have now celebrated our 40 year class reunion. It was fantastic to get together this year to celebrate and see how we are doing. From what we observed, we are doing quite well, thank you very much.
Class of 73, we want to make this site more interactive, so each month or more frequently we will be posting something from one of our more literary classmates to create interest, thinking and chuckles as you read what is posted. You all also can post pictures to the website and we will get out instructions for that also.
This is the official website for our Class. To join (it's free!), click 'Classmate Profiles' at left and locate your name. It only takes a few minutes to update your profile. If your name is not on the list then hit the 'Contact us' link and let us know and we will add your name. It's a two-step process: 1) you'll need to join first before you can 2) see profiles of other class members or send secure messages to other registered alumni.
'Classmate Profiles' is a secure online directory that only logged-in '73 alumni can view. When you update your profile, you make choices about privacy. Email addresses are required but will never be displayed; only a 'send private message' link. You'll receive a welcome email after you 'save' your updated profile.
How can you help? If you're in touch with 'Missing Classmates' or alumni who haven't yet updated their profiles here, please help us by clicking on their name to send an email invite - thanks. We will be sending postcards to alumni for whom we have addresses (who hadn't yet registered on this Site.) As 'undeliverable' postcards are returned, the 'Missing Classmates,' the list grows, so check it often and help us out!
Feedback/suggestions are always welcome--use the 'Contact Us' link.