Skyline High School

In Memory
Robert Whittenburg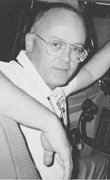 Robert "Rob" Lee Whittenburg
1955 - 2017
Rob passed this crazy but fascinating world peacefully on March 22, 2017 around 2:20 p.m. after a nine year battle with cancer. He wished to thank all the wonderful and kind people of Huntsman Cancer Institute, Utah Cancer Specialist, Brighton Home Health and Hospice and St. Marks Hospital. Their professionalism and dedication is beyond reproach.
One of Rob's first memories was watching the old Piston powered airliners that would fly overhead as they flew in and out of Salt Lake Municipal Airport. This lit a spark in him when he was no more than two years old. It struck his imagination of flying which later became a career. He flew until he was forced to retire in 2013 after a 27 year career with Mountain Fuel Resources, now QEP Resources in Denver.
While attending the University of Utah, he obtained the Add-on ratings to his Commercial Pilot License, and worked full-time at the airport. And then he joined the U.S. Navy as an ASW technician on the Lockheed P-3C Orion. In the Navy, he made many lifetime friends and believed in "Work Hard - Play Hard", which was his life's motto.
He is survived by his wife Maricel; daughter Sarah; and younger siblings Ann and David. Maricel and Sarah became his sole focus of love when they came into his life.
A celebration of life will be held on Friday March 31, 2017, from 6:30 PM- 8:30 PM, at Starks Funeral Parlor located at 3651 South 900 East, Salt Lake City, Utah. Guests are encouraged to use the complimentary valet parking provided on the north side of the building.
In lieu of the usual flowers or random gifts, he wishes donations go to Huntsman Cancer Institute.