Skyline High School

In Memory
Pat Welling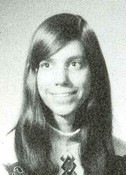 1955-2015
Salt Lake City-Our sister, daughter, aunt and friend, Patricia Welling passed away on Saturday, February 14, 2015. At the moment of her passing she was surrounded by her family. All of her family members were blessed to be able to express their love to Pat, and she gathered the strength to tell us of her love prior to her passing. She is the beloved daughter of Vern and Betty Welling.

Pat grew up in an Air Force family which gave her the opportunity to travel the United States and overseas. Pat attended schools in Japan, Virginia, Colorado, Alaska and Utah graduating locally from Skyline High School in 1973.
Pat is a member of the Church of Jesus Christ of Latter Day Saints. She faithfully fulfilled a full time mission to Colorado.

Pat loved sports and participated in horseback riding, basketball and golf (like her Dad). Pat was a proud supporter of women's athletics and took time to encourage and coach young women (including her niece Lisa) to enjoy the freedom of expression through sports. She was a vocal supporter of sports at the University of Utah "Go Utes!". Pat's nature was straight forward, logical and she tried to be pleasant in her dealings with others. Above all else, Pat did it her way.

For the past 15 years, Pat worked in accounting at Cookie Tree Bakeries in Salt Lake City. They loved Pat and she felt grateful to be working with people who cared about the person as much as the job. The family wishes to express our deepest gratitude to her co-workers who supported and loved Pat during her extended illness. Pat (and her family) remembers neighbors and members of her LDS Ward who reached out to her during the last months of her life. They gave her an example of Christ like love that was appreciated. The family wishes to thank the staff of Utah Cancer Specialists and Dr. Chandramouli for their excellent and compassionate care of Pat.

She was married to Steve Jensen and later divorced. While Pat did not have any children of her own, she helped raise her beloved nephews Ryan and Mike and niece Lisa. Family was important above all else to Pat who regularly gave us of her time and love. Even when Pat was burdened with illness or other challenges she wanted to reach out to others. Her wish was to be an organ donor.

Pat is survived by brothers Scott, Bob (Eileen), niece Lisa, nephews Mike, Ryan (Sarah) who gave Pat two beautiful grandnieces Sophie and Emma. She was preceded in death by her father Vern and mother Betty. Pat took loving care of both of her parents at the time of their passing.

Funeral services will be held on Saturday, February 28th at 11:00 a.m. at Larkin Sunset Lawn Mortuary, 2350 East 1300 South, Salt Lake City, Utah, where a visitation will be held on Saturday morning from 9:30 - 10:45 a.m. prior to the services. Burial to follow in Salt Lake City. In lieu of flowers, a donation may be made to Huntsman Cancer Institute in Pat's name or a charity of your choice.
Online condolences can be shared at www.larkinmortuary.com.