Skyline High School

In Memory
Janice Sigler (Pedersen)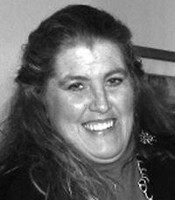 Jan (Sigler)
Pedersen
Will be missed

Jan (Sigler) Pedersen, 52, passed away August 4, 2007. Preceded in death by here mother Mary, and her sister Mary Ann. Survived by Father Ken Sigler Sr, Brother Kenny (Vickie), nephews Jonah, Ethan, sister Nancy, niece Cheri. Jan was happily married to Mark Pedersen on July 26, 1996. Survived by four children, Jake(Stephanie), Ryan (Crystal), Jared (Amber), and Stephen. She had five grandchildren Olivia, Jaclyn, Aaliyah, Trevin, and Francisco.
Jan was loved by all, and will be greatly missed.
A memorial service will be held at the Riverbend Ward at 8825 So. 150 W. Sandy Ut on Thursday, August 9, 2007 at 1 p.m. In lieu of flowers please make a contribution to the charity of your choice.