Skyline High School

In Memory
Craig Livingston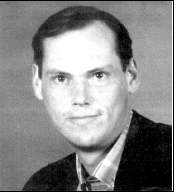 2/24/55 ~ 2/15/03
Craig Brockbank Livingston, age 47, passed away peacefully in his sleep of natural causes February 15, 2003.
Craig was born Feb 24, 1955 in Salt Lake City to Lohr S. and Nancy Brockbank Livingston. Craig graduated from Skyline High School in 1973. He worked for Wesley Green Roofing nearly two decades. For the past several years he worked for The Wood Connection.
Craig was an expert gardener and handyman, spending many long hours helping his family members with garden and yard care. He was quick to lend a hand to help paint a room or assist in a wide variety of home maintenance projects. He even supervised the building of a yurt for his family near the Uinta National Forest. Craig was generous with his labors and gentle in his manner. He will be greatly missed and in many ways truly irreplaceable for the many acts of service he provided to his family.
He is survived by his mother, Nancy Livingston; brothers and sisters, Leslie (Ike) Egan, Scott (Mary) Livingston (twin brother), Brock Livingston, Susan Merrill; many nieces and nephews. Craig also leaves behind his sweetheart, Beckie Lawson, and her children, Brandon, Angie, Lori. He was preceded in death by his father, Lohr Livingston. We rejoice in their reunion.
Services will be Wed. Feb 19, 12 noon East Mill Creek LDS Stake Center, 3103 E. 3600 S, where friends may call one hour prior to services. In lieu of flowers, contributions can be made to the Brockbank Education Fund through a family member.