Skyline High School

In Memory
Jolyn Barrus (Holzer)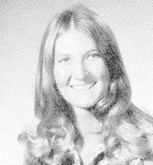 Our sweet wife, mother, sister, grandmother and friend, Jolyn Holzer age 67 passed away August 30th in Holladay, Utah. She was loved and cared for by her family and friends near and far over the last few years as she battled Alzheimer's. Jolyn was born April 3, 1955 to Readele Covington Barrus and E. Sherman Barrus in Holladay. She attended Skyline High school and spent almost 40 years as a hair dresser where the relationships she built over the years were as valuable as what she did to make her clients look beautiful. Her "ladies" were part of her family.
Jolyn's greatest joy in the last few years has been her grandkids and it was so special to see how they both brought joy to each other.
Jolyn is survived by her husband Vern and her three beautiful daughters Sara (Gavin) Monsen, Bethann (Brandon) Finley and Hannah (Mark) Finley, Step-children: April, Cade and Garth Holzer. grandkids: Eleanor, Arlo, Vivienne and Vanessa and her six brothers and one sister. She is preceded in death by her parents and her sister Lynda.
Please join us to celebrate our memories of Jolyn on April 2nd. Please visit https://everloved.com/life-of… for more details.