Skyline High School

In Memory
Peter Kinneberg VIEW PROFILE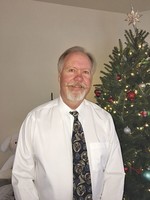 Peter Andrew Kinneberg, 61, of Vincent, Ohio, died Friday, February 24, 2017. Born in Ely, Nev., on August 17, 1955, he was a son of the late David Andrew and Helen Louise Oelwein Kinneberg.
He had retired as an engineer in the BCU unit at Kraton Polymers in Belpre, Ohio. Peter was very proud to have been an Eagle Scout. He enjoyed time spent fishing with his family and friends, cooking and grilling, as well as hunting.
Peter married Cathy Colburn May 5, 1984. Cathy survives, with their two daughters, Allison Louise Walker (Jonathan), of Denver, Colo., and Jennifer Kay Kinneberg (fiance Christopher Simpson), of Greenville, S.C. Also survived by three brothers, David (Roberta), of Kerrville, Texas, John (Jeanne), of Aurora, Colo., Paul (Raymona), of Charleston, W.Va.; and his mother-in-law, Kay Colburn, of Winters, Texas.
Funeral services will be held at 11 a.m. Tuesday, February 28, 2017, at the Barlow Chapel of Cawley & Peoples Funeral Home. Burial will be in Lakeview Cemetery, in Winters, Texas. Peter's family will greet friends at the funeral home on Monday from 6-8 p.m.
Memorial contributions may be made to the Great Salt Lake Council, Boy Scouts of America (gslc.patchfunding.com) or to the American Heart Association (donatenow.heart.org).
Cawley & Peoples is honored to assist the Kinneberg family, and offers online condolences and other resources by visiting www.CawleyandPeoples.com
Click here to see Peter's last Profile entry.