Skyline High School

In Memory
Marilee Brady (Garrett)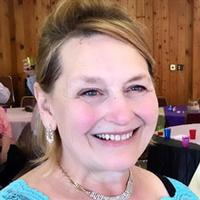 Obituary for Marilee Garrett
Marilee Garrett, age 64, passed away on February 9, 2020 in SLC, UT. She was born on July 4, 1955 in SLC, UT to Diane Parkinson & Melvin Earl Brady. She was married to Paul Garrett.
She graduated from University of Utah 1980 with bachelors degree in Education. She obtained her Masters degree in Special Education from Northern Arizona University in 2001. She taught middle school Special Education, then went on to teach English as a Second Language at the College of South Idaho.
Marilee is survived by her second husband, Paul; her three siblings, Melvin Mark Brady (wife: Elena Fajardo), Michele Ann Macdonald (husband: Scott Richards Macdonald), and Melinda Sue Wallace; three daughters: Melissa Wolf, Grace Beth McCoy, Misty Diane Evans, and two sons, Jacob Adam Grier (wife: Marites Pacion), and Isaac Melvin Grier (partner: Ryann Riedmann). Grandchildren: Chessa Lilly (husband: Cory Hentrup), Benjen Devont Lilly, Julia Diane Lilly, Rachel Valerie Evans, Jenna Heidi Lilly-Evans, William Evans, Steven David Kennison, Michael Charles Wolf, Brandon Desmond Choice, Terrell Britton Winder McCoy, Aiden James McCoy, Jordyn Sapphire McCoy, Jett James McCoy. Johanna Marie Grier, Adham Pacion Grier. Stepchildren: Titiana Mulry (husband: William Mulry), Michele Garrett, Matthew Garrett (wife: Lisa Garrett), Silas Garrett (wife: Megan Garrett), Anastasia Wilber (husband: Dan Wilber). Step-grandchildren: Thomas Mulry, William Mulry, Aidan Mulry, AbduRahman Archer, Fatima, Asma, Ioan Garrett, Theodore Garrett, Maria Joy Garrett.
She is preceded in death by Diane Parkinson Brady (mother), Melvin Earl Brady (father), Sidney Alfonso Brady (paternal grandfather), Della Hurst Brady (paternal grandmother), Frank Lane Parkinson (maternal grandfather), Zada Justeson Parkinson (maternal grandmother)
Family gathering and life celebration for relatives and friends in Utah will be held Saturday, Feb. 15, 2020 at 1:00 PM at the Castlewood Ward House at 12681 South 3600 West, Riverton, Utah 84065. Funeral Services for Idaho friends and relatives will be held Thursday, Feb. 20, 2020, at 6:30PM at Serenity Funeral Chapel located at 502 2nd Avenue North, Twin Falls, Idaho, 83301.
In lieu of flowers, Marilee has requested donations be made to the College of Southern Idaho Refugee Program. refugeecenter.csi.edu/ Special thank you to all those countless friends and family who gave so unselfishly of themselves and their time to help make Marilee's life richer and more comfortable. Special thank you to her caregivers at Sandy Regional Rehabilitation and Nursing Home, The Inn Between, Dr. John Dietlein, and Symbii Hospice.
Arrangements are under the direction of Wiscombe Memorial.