Skyline High School

In Memory
Debi Holmstrom (Walke)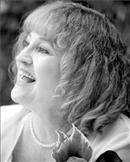 Debra J. Walke
1955 ~ 2014
On Wednesday June 18, 2014 Debra J. Walke passed peacefully, at her home, due to complications of Multiple Sclerosis.
Debi was born January 11, 1955 to Joan Rogers and Jack Holmstrom in Roswell, NM. She graduated from Skyline High School, in Salt Lake City, class of 1973.
Debi went on to work as a dispatcher for the Salt Lake City Police Department. She later became a teacher's assistant for students with special needs in the Granite School District.
On December 26, 1981. Debi married William Walke. Bill was by her side when she left this world.
Debi loved the outdoors, enjoying skiing and scuba diving in her younger years. She loved the mountains, camping, hiking, and four wheeling with Bill, family, and friends as much as possible before the MS slowed her down.
Debi always loved Christmas and went out of her way to bring many traditions alive for her family. She was always thoughtful in her gift giving, choosing special gifts for her son and her step children. She loved her annual shopping trip to Denver to be with her sisters and her mom.
As Debi requested, her body was donated to the University of Utah School of Medicine for medical research. Debi hoped that by making this donation someone else could be helped or saved from the terrible disease of M.S. Her body will be cremated and returned to her family.
In lieu of flowers, please make a donation to the University of Utah School of Medicine's department of Neurobiology and Anatomy.
A wake, to celebrate Debi's life, will be held at her home on July 12, 2014. Friends and family are invited to attend between 2pm and 5pm.
Published in Deseret News on June 29, 2014 - See more at: http://www.legacy.com/obituaries/deseretnews/obituary.aspx?n=debra-walke&pid=171488211#sthash.7lJyiVoD.dpuf