Skyline High School

In Memory
Steve Spere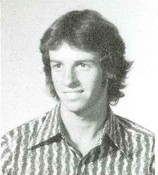 Obiturary Notice
Beloved husband, father, son, brother, and friend, Steven Richard Spere, age 43, died on Sept. 9, 1998 at home after a courageous battle with cancer.
Born on November 19, 1954 in Salt Lake City, Utah to William Irving Spere and Jean Young Dorton Spere. Married Kimberlee Dall November 10, 1983 in Salt Lake City. Marriage later solemnized in the Salt Lake LDS Temple.He was a World Class Skier and National Gelande Champion. He played Volley Ball at BYU where he was selected All-American.
Steve was an active member of the LDS Church. He served in many callings including two Bishoprics, Elders Quorum President and Young Mens President.
Survived by his wife, Kimberlee, Salt Lake City; children, Madison, age 9; Connor, age 7; Savannah, age 4; and Delainee, age 18 months; parents, Salt Lake City; brother, Bill (Tricia) Spere, Bountiful; and sister, Connie (Larry) Brown, Salt Lake City.
Funeral service will be held at 11 a.m. on Saturday, September 12, 1998 in the Valley View Stake Center, 2245 East 3900 South. Friends and family may call on Friday evening from 6-8 p.m. at the Wasatch Lawn Mortuary, 3401 South Highland Drive and on Saturday at the Stake Center from 9:45-10:45 a.m. Interment Wasatch Lawn Memorial Park.
The family would like to thank the members of the Valley View 5th Ward and their wonderful neighbors for their love and support.